Mountain Ash Forests
This article is being developed
The following is extracted from: Mountain Ash in Victoria's State Forests (2007)
Forests dominated by Eucalyptus regnans F. Muell. (Mountain Ash) form a complex, dynamic and extensive ecosystem in Victoria. They occupy approximately 250,000 hectares of forest land, primarily located in the wetter mountain areas of central and southern Victoria, with extensive areas permanently reserved in nature conservation reserves or water catchment areas. The benefits from these highly productive forests are fundamental to the ecological, economic and social well-being of our community.
These benefits and values include:
the conservation of flora and fauna
the protection of water catchments and water quality
timber and other forest products
landscape, archaeological and historic values
recreational and educational opportunities.
E. regnans naturally occurs only in Victoria and Tasmania. In Victoria, it covers a wide range of sites in the Central Highlands, Otway Ranges, South Gippsland and East Gippsland areas. Where soils are poorer and the rainfall lower, pure stands may be restricted to valleys and along watercourses. The latitudinal range is 37°–43° South. The altitudinal range in Victoria is from about 150 m to 1100 m, whilst in Tasmania it is from near sea level to about 600 m. Although at low elevations E. regnans is restricted to moist southerly aspects, above 600 m it occurs on all aspects. At elevations above about 1000 m within the Central Highlands E. regnans is replaced by E. delegatensis (Alpine Ash), which is more resistant to severe winter conditions. At this ecotonal zone E. nitens (Shining Gum) may also be present. At the low elevation boundary (150 m) E. regnans is replaced by E. obliqua (Messmate Stringybark) or E. cypellocarpa (Mountain Grey Gum), where conditions are drier or more fire prone.
In Victoria, the finest remaining mature stands of E. regnans are found in the Wallaby Creek, Watts River and O'Shannassy River catchments north and north-east of Melbourne. These areas escaped the widespread 1939 bushfires that killed vast tracts of E. regnans forest.
The slide show presented below was developed by Brian Fry. It gives a good overview of the regeneration processes for areas that have been logged.
Mountain Ash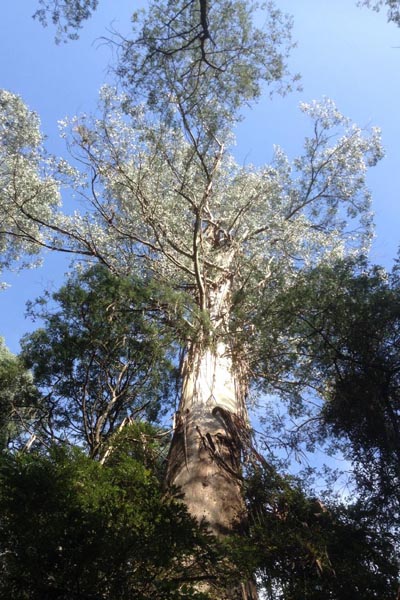 Eucalyptus regnans
Photo: Marc Freestone
Copyright 2019 Royal Botanic Gardens Board
Creative Commons Licence CC BY-NC-SA 4.0