What's New
A Snapshot of the Most Recent Additions.
Did You Know?
Barrabool Forest - abt 1943

An area of Black box forest where old trees had been rung by Commission labour 8-10 years before. Each tree is surrounded by a number of coppice shoots 5 feet or so high. Two men with a swing saw, a truck and sundry crow bars, axes etc. (Dont forget the dogs, they might catch a rabbit. Make sure the water bag is full and dont forget the billy. Better take the licence, that forestry bloke might turn up).
Aim: Production of 9" firewood for sale in Horsham or Murtoa for domestic wood.
(1) Fell the tree with the swing saw after removing some or all of the coppice shoots.
(2) Sharpen the saw.
(3) Cut it into 9" blocks with the swing saw. (Sharpen saw at regular intervals).
(4) Split the rounds - some of which are 2'6" in diameter - into manageable sizes for loading, but make sure you dont do any unnecessary work.
(5) Load and deliver.

Black box with interlocked grain is very hard to split so the tool in use was an axe head welded onto a pick haft and fitted with a pick handle. (It's too tough - you can't split it with an axe!).

A memory of JD Gillespie

Read More

Mistletoe

Mistletoe infestations in our forests were once a big deal.

Young Forester (to old hand on the gang) - "What was the first job you had with the Commission Bob?"

Bob - "Trimming mistletoe off trees during the depression."

Young Forester - "How did you do that - with a long handled saw?"

After derisive hoots of laughter came the answer. "We climbed the trees with a ladder, and with a tomahawk or axe in one hand worked our way out along the branches and cut off the mistletoe clumps. The boss wouldn't let us chop off too much branch so we had to get out as far as possible. They used to pick the lightest men for the job!"

A memory of JD Gillespie

Read More

In the last Annual Report prepared by the FCV, 1983/84, the FCV had a road and track network extending over more than 40000 km.

Native Forests (km)

Primary Roads - 2910
Secondary Roads - 10186
Fire Prot & Access Tks - 21342

Plantations (km)

Primary Roads - 680
Secondary Roads - 2877
Fire Prot & Access Tks - 2670

Read More
Images
Click on any photo to enlarge it and access controls for the slide show.
The Carver Papers
This collection of historic forestry documents was put together by ME Carver. "Carver's papers, Forestry in Victoria 1838-1919 are considered by some historians as the authoritative source. Maurice Carver was a clerk in the Forests Department where, in the late 1920s, he was given the task of destroying 'inactive files'. This task may have led him to compile his history. He indexed reports, gazette references and other documents up to 1919 and provided an overview. He produced staff lists for 1908 and 1917, but did not include nursery and plantation staff as these staff were neither listed nor counted by the Public Service." ( See: VSF Origins, G Fahey)
What is available through this site are separate packages which cover the entire collection. When you access the documents you will find a file called Carver Volume Index.pdf which has been extracted from the papers to help you find your way quickly. Volume E contains an extensive Index covering all Volumes but also, and perhaps more importantly, Carver's own summary of the documentation he has put together. It is a good place to start.
The availability of this digital copy of Maurice Carver's five-volume set of "Forestry in Victoria 1838 - 1919" on this website has been made possible
thanks to the advocacy of Paul Barker and the management of Julie McCormack of the Public Records Office, Victoria.
Peter McHugh's Material
The material isn't new but this link to Peter's work is new. Have a look at his continually evolving site by using the link below.
He has also published three series of Victorian forestry and fire stories. Use the links below.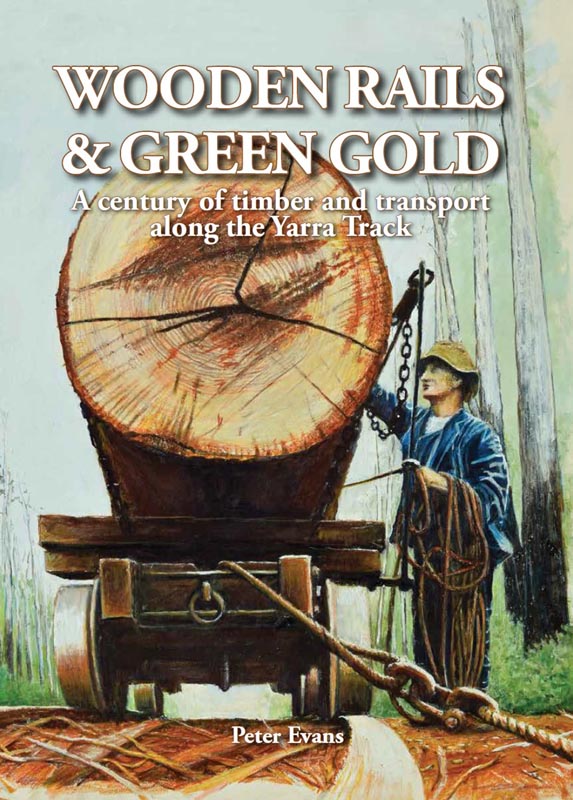 New Book by Peter Evans
"The book covers the forest history of the Great Dividing Range between Healesville and Woods Point and every sawmill along the Yarra Track. I interviewed dozens of former sawmill workers and foresters for the book. The book also covers the ongoing battle between the FCV and the MMBW over closed catchments. A theme running through the book is a mill-by-mill and town-by-town coverage of the 1939 bushfires drawn from official inquests and oral history. One chapter examines relationships between foresters and sawmillers." Peter Evans, August 2022