FCV Supplies Wartime Firewood
Brian Fry, 2018 (bio)
"Over the period 1941-42 to 1952-53, a total of 1,915,286 tons measure of firewood was produced by the FCV through the Emergency Firewood project."
This next bit has been subject to considerable debate. But Fry and Rawson, at least, as at 7.27pm on the 29 June 2018, have agreed that a ton of green firewood, made up of 5ft billets (2 axe lengths @ 2'6" each), one axe length high (2.5ft) and four axe lengths long (10ft) is equivalent to a "ton measure" as referred to above. Prove us wrong if you have the nerve to take on this task.
All statistics were obtained from FCV Annual Reports spanning 1941-42 to 1953-54.
In the late 1930s the main fuel supplies for domestic heating and cooking, industry and electricity for metropolitan Melbourne and the fuel for Victoria's steam trains were (mainly) coal but also firewood.
A number of factors coincided to drastically alter this situation.
The State Coal Mine at Wonthaggi, a main supplier of coal to Melbourne, suffered a violent and deadly explosion on February 15th, 1937. [Although output eventually resumed, it was much reduced. The Forests Commission provided relief employment for some of the miners in silvicultural works at Neerim South.] World War II drew large numbers of men into the services, brought about a major escalation in Australia's heavy industry output which placed urgent demands for fuel and power and caused a reduction in the supply of black coal from both New South Wales and overseas. As a consequence, the availability of labour for the labour-intensive fuel industries reduced. And the commitment of rail rolling stock to military needs as well as the reduction in the use of road transport due to petrol shortages led to a dramatic shortage of fuel for domestic and light industry purposes.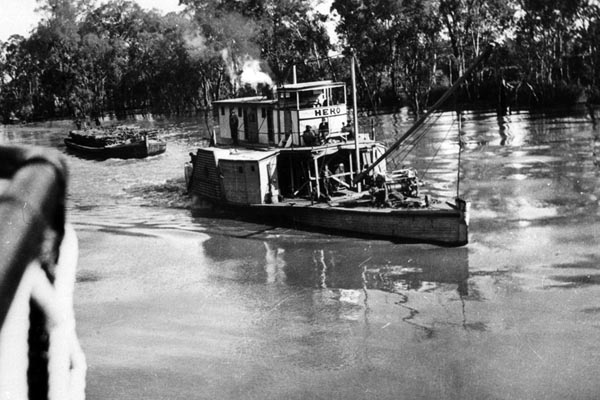 In January 1942, less than 1000 tons of firewood was coming in to Melbourne each week and a survey showed that there would be a 300,000-ton short-fall. The Victorian Government gave the Forests Commission (FCV) the responsibility of organising supplementary supplies of firewood. An Advisory Panel was formed chaired by the Chairman of the FCV and with representatives from the Firewood Millers Association, the Fuel Merchants Association and the Fuel and Fodder Union.
Mr J. W. Youl, Sales and Marketing Officer of the FCV, was appointed Production Manager for firewood in December 1942 and the Commission formed the State Fuel Branch to organise increased production and to control distribution. This branch was housed at the Flinders Street railway buildings. The Victorian Railways co-operated where possible by providing special firewood trains.
Firewood production by the FCV reached 380,108 tons (measure) in 1942-3 but, due to transport problems, only some 253,668 tons were dispatched to Melbourne. The previous year's tally was only 15,000 tons.
By the end of June 1943, some 694 men classed as 'aliens' (interned nationals of hostile countries) - part of Victoria's Civil Aliens' Corps - were employed in firewood cutting. They were housed in and near forested areas in 20 camps of 30 men per camp. They produced 148,844 tons (measure) at an average rate of 11.3 tons (measure) per man-week.
Closer to Melbourne, the Country Roads Board undertook special roading projects to provide access to firewood areas, such as near Broadford. And firewood depots were set up in conjunction with Victorian Railways at Brookwood, Toorak, Fitzroy and Kew. The City of South Melbourne provided a facility where one-foot blocks of wood were produced from 5-foot and 7-foot billets and stored. Four-hundred-and-ninety-six fuel merchants were registered to supply various institutions and domestic needs.
In 1943-4 production of emergency firewood by the FCV totalled 400,823 tons (measure); this included some purchased from private suppliers. Firewood stocks held in country districts amounted to 185,049 tons. Towards the end of that year some 300 Italian Prisoners Of War (POW) were employed. These men were housed in camps at Broadford and Kinglake West. Manpower shortages for bush work was exacerbated by the steady wastage of men from the Civil Aliens' Corps.
The Country Roads Board continued with road building to access firewood areas in the Broadford Forest. Mobile sawbenches were supplied to the metropolitan depots for benching up long wood. Drought-stricken farmers in the north of the State began producing firewood from trees and mallee roots to supplement incomes.
In 1945, bushfire spread into the Yallourn open-cut mine, causing further restrictions on the use of coal such that homeowners, for instance, were only permitted to buy coal for the purposes of heating water. Because of the serious shortage of coal, firewood was made available to the Victorian Railways to use as fuel for locomotives engaged in shunting in marshalling yards throughout the State.
In part due to mild weather early in the winter, there was a surplus of firewood by June 1945 and, because of an improvement of supply, the FCV were requested to curtail operations. Italian POWs, 'alien' labour, piece-workers and contractors were dispensed with. Only 72,807 tons measure was produced in 1945-46.
In 1946 Melbourne's fickle weather again came into play with cold, wet weather early in the autumn creating a strong demand for firewood. Domestic supplies were running low and the Railways was suffering a coal shortage. The Government instructed FCV to again resume production of emergency firewood. In that year the Commission made 188,617 tons (measure) available to the Metropolitan Domestic Firewood Committee.
Experienced bush labour was becoming harder to find. European migrants, part of the post-war migration project, were employed. The first group of migrants was camped at Mount Disappointment in the Broadford Forest District. From January 1949, 60 men were engaged in production of dry firewood. Additional camps of 20 men each were set up at Rushworth, Gunbower and Castlemaine Forest Districts and 50 men were camped at Trentham. In total 180 men were employed as at June 30th, 1949. Because of the inexperienced and unskilled labour, mechanical equipment, such as drag saws, chainsaws, tractor sawbenches and logging tractors were increasingly used.
Arrangements were made for contract and day-labour to produce one-foot blocks in the Barmah Forest District. This wood was stacked on the banks of the Murray River then transported by barge to Echuca from where it was loaded on to rail trucks for shipment to Melbourne.
Because it was difficult to get adequate supplies of long wood to Melbourne depots by road, special weekend firewood trains were loaded on Fridays at Beaufort, Daylesford and Talbot, to arrive in Melbourne to be unloaded on Sundays. Twenty-six of these special trains delivered over 10,000 tons measure of 5 foot wood.
A seven-week national coal miners' strike in 1949 brought industry to a grinding halt. Further, black coal was no longer available to Victoria from interstate. As a consequence, the State Electricity could not continue its full production of briquettes so causing restrictions in the use of electricity which were not lifted until 1953.
Firewood production increased during 1949-50 largely due to additional migrant labour being allocated to firewood cutting. 360 men were camped at Broadford, Castlemaine, Cohuna, Daylesford, Brisbane Ranges, Greytown, Scarsdale and Bullengarook. Firewood continued to be made available to Victorian Railways for fuel for steam engines.
In December 1950, a fire at the Brookwood depot burnt 3300 tons of firewood. Labour was still hard to find, as the early migrant workers were finishing their two-year labour contract with the government.
The emergency firewood project began to wind down and by June 1954 all the metropolitan depots had closed with the exception of the Brookwood distributing centre.
Over the period 1941-42 to 1952-53, a total of 1,915,286 tons measure of firewood was produced by the FCV through the Emergency Firewood project.
And so ended another chapter in which the FCV provided employment and much needed community assistance to keep the home fires burning.
---
---
And also:

"In 1941, with the nation at war, there was a desperate shortage of petrol and oil, including all the oils for cooking and heating. The City of Melbourne was faced with a grave fuel shortage. John Youl recognised that the Gunbower and Barmah forests held a store of off-cuts from previous operations over many, many years, just lying around on the floor of the forest. What do you think happened? At his instigation, the Forests Commission bought a river steamer and barges in 1941 which picked up firewood carted to the river bank in the dry weather, in the grand old style of nearly 100 years before and transported it to the wharf and railhead at Echuca." AO Lawrence (1979)

"In 1942, I was seconded from the salvage work and the work of wartime timber supply generally to take over as production manager for emergency firewood ... . We had to produce and transport 500000 tons of firewood a year in the form of foot blocks and get it to householders in Melbourne. We didn't actually deliver it to the householders, but to the firewood merchants, who in turn, did the retail distribution. There were as many as 1500 men employed on production and, of course the great problem was to get labour. There just wasn't any labour of the normal kind about at all in the middle of World War II, so men who had been interned as aliens were used. These were mostly Italians who were rounded up when Italy came into the war, and were put into a series of camps in forests in many areas of Victoria. These camps were built by the Allied Works Council, a war-time organisation which handled such matters. The men were required to cut a certain amount of wood per day for which they were paid a set amount of money, and there will be foresters here tonight, who will well remember that particular operation. We had two particularly interesting camps. One was at Mt. Disappointment where there were 250 Italian prisoners of war who had been taken prisoner in the Western Desert and were put on to wood cutting at the No. 1 camp. These men gave no trouble at all. There was very little supervision. They used to sing most of the time - very happy to be out of the War. They too were paid a certain limited amount of money for the amount of wood they were required to produce each day. But an even more interesting camp was one at Greytown near Heathcote. In this camp there were over 200 sailors who came ashore in Western Australia when the German merchant raider the Kormoran, a disguised warship, sank HMAS Sydney with the total loss of her crew, but was damaged herself and had to be abandoned. The sailors and NCO's were put in the Graytown camp for firewood cutting. A most incongruous thing was the sight of these men out in the forest of red ironbark and grey box cutting firewood, with Australian soldiers scattered amongst them with rifles and fixed bayonets." JW Youl (1979)
See Slso:
FCV - Employment Overview
Empire Forests and the War