Fire Retardant Mixing Systems
Barry Marsden (bio)
In 1939, Victoria was one of the first locations in the world to trial the 'bombing' of bush-fires using aircraft, and in 1967 the Forests Commission (FCV) made the first operational use of aerial-firebombing in Australia using two fixed-wing agricultural aircraft.
Overseas experience and earlier local trials had suggested that mixing water with chemicals, to create a fire retardant, made operations far more effective. Retardants were subsequently found to be particularly useful in slowing the spread of lightning-caused fires in inaccessible terrain, thereby improving the likely success and safety of follow-up ground crews.
Manual Mixing Operation
The earliest form of mixing fire retardants by FCV personnel involved pouring the powder into a tank of water and mixing it by hand with a rakehoe to create a slurry which was then loaded into the aircraft. (Fig.1) During the late 1960s fire retardants were being trialled and tested on various forest fuel types using different drop-patterns.
In-line Funnel/Venturi Effect (Mobile) - 1970
As a means of introducing and blending the retardant powder into the water while it was being pumped to the aircraft storage tank, the FCV developed a venturi action system utilising an in-line funnel.
The in-line funnel was installed into the water delivery line between the pump and the storage tank. The funnel was installed higher than the water level in the tank to ensure that there was no flow back to the dry powder as it was being introduced. (Fig.2a & Fig.2b) The throat of the in-line funnel would clog easily if the powder was introduced at too fast a rate; the flow of powder had to match the flow of water into the tank.
To facilitate mixing at field locations a number of former Bedford fire-tanker, 2700 litre water tanks were equipped with an in-line funnel and a 75mm filler-pump mounted on the lid of the tank. (Fig.3) As such, a 'slip-on' mixing unit was created that could be transferred by a tip-truck to any designated airfield. The 25kg bags of fire retardant would be transported separately by tray-truck. Once the required number of bags of retardant had been introduced further recirculation of the slurry, via the water-pump, assisted with the mixing process.
Obviously a water source was required at the airfield or remote mixing site.
Issues that then emerged included:
the manual handling of 25kg bags of retardant
retardant dust emissions; and
clogging issues.
Meanwhile, an alternative mixing method was developed using cement-mixing trucks. These could be used to support large-scale operations.
Internal Paddle Batch-Mixer (Fixed Base) - 1978
Problems with mixing the retardant led to the development of a 1700-litre internal-paddle batch-mixing unit. (Fig.4)
A water tank from a former FCV International fire-tanker provided the means for developing an improved mixing tank. A 200mm-diameter four-blade propeller, attached to an enclosed shaft and driven by a second-hand Holden engine, provided the basis for the trial of an improved retardant mixing unit. An elevated hopper, with a coarse mesh screen installed internally (a safety requirement), was bolted to the opening of the lid to the tank, directly above the four-blade paddle.
The hopper included a fold-down table to support the bag of retardant while the powder was being poured into the tank directly above the rotating paddle, thus creating the mixing action.
The internal-paddle technique proved to be a success, resulting in several more mixers being developed and installed at FCV fire-bombing bases.
1500-litre Internal-Paddle Mixer (Mobile) - 1984
A mobile mixing unit was then developed at the Fire Protection Workshop at North Altona in 1984. (Fig.5) The mixer could be operated by a crew of two and could prepare a 1500-litre batch of retardant in approximately 15 minutes. It was designed to be towed by a truck which carried the bags of retardant, two filler pumps, hoses and relay tanks. An independent water supply was obviously required.
This unit was powered by a Volkswagen industrial engine through a lever-operated clutch and 1:2 reduction unit.
Specifications:
Capacity - 1500 litre / 8 bag mix
Gross weight (unladen) - 1.1 tonne
Overall length - 3625 mm
Overall width - 1830 mm
Overall height - 2700 mm
Tandem 14" Holden wheels with brakes.
3000-litre Mixer (Fixed & Mobile) - 1998
Next to be developed was a system which utilised a dimensioned water-tank fitted with an internal shaft-driven paddle and powered by a petrol or diesel engine through a lever-operated clutch. (Fig.6)
The tank was filled with water to a given level to allow for expansion of the retardant slurry. Phos-Chek D75-R (or D75-F) retardant in 25kg bags was then added to the water at the recommended ratio of 14.4kg per 100 litres.
Once the correct quantity of retardant had been added, recirculation was necessary for approximately 10 minutes. The slurry was tested for viscosity and salt content then transferred directly to the aircraft or to a storage tank.
Additional equipment (mobile unit):
To support the 3000-litre portable mixer the Department built an ancillary 6x4 trailer complete with two 18-HP, 75mm transfer pumps for situations where simultaneous mixing and transfer of retardants may need to occur. (Fig.7) Two 9000-litre floating-collar tanks, coupling hoses, camlok couplings, valves, hose skates, tools and safety equipment were also deployable.
200-GPM Eductor Mixers (Mobile) - 2000
Due to occupational health and safety manual handling and dust-related issues, the eductor system was introduced as an alternative to the earlier mixing methods.
The North Altona Fire Equipment Development Centre designed a 200-gpm (gallons-per-minute) eductor installed on a large tri-axle trailer fitted with two 4000-litre poly tanks.
The tanks were fitted with a common manifold through which the eductor could simultaneously deliver the mixed retardant equally to both compartments. (Fig.8) The larger tank capacity enabled 6700 litres of mixed retardant to be educted without interruption.
Equipment (mobile):
Tri-axle trailer, Phos-bins and eductor, two 75-mm transfer pumps, ancillary hoses, two 9000-litre collar tanks, couplings, tools and safety equipment.
150-GPM Eductor Mixer (Fixed-Base) - 2001
After reviewing related technology in use in the United States, the Fire Equipment Development Centre in 2001 introduced the eductor mixer, described above, as the next generation of retardant-mixing technology. The system largely eliminated dust and manual handling issues.
The eductor-mixer was a patent-protected device capable of continuous high volume mixing. The retardant powder was provided by the manufacturer in a 907.2kg 'Phos-bin' pallet container. The container was purpose-built to allow the powder to be aerated and then withdrawn through openings in the base.
The mixing operation took place in the eductor, where water flowing through a restriction is greatly accelerated, creating a low–pressure area (vacuum). A separate air-blower fluidized the retardant powder within the 'Phos-bin', which was then sucked through to the eductor-mixer.
The eductor delivered mixed-retardant via a tube into a 10 000-litre poly-tank from which the retardant could be transferred directly to an aircraft or retained in storage for future use.
As the handling, moving and breaking of individual bags was eliminated, and the 'in-place' pallets were tapped by a probe without the need to move the unit during mixing, the unit not only became essentially a three-man operation, but one that was simple and clean to operate. Each 'Phos-bin', when blended with 6300 litres of water, produced 6770 litres of mixed retardant.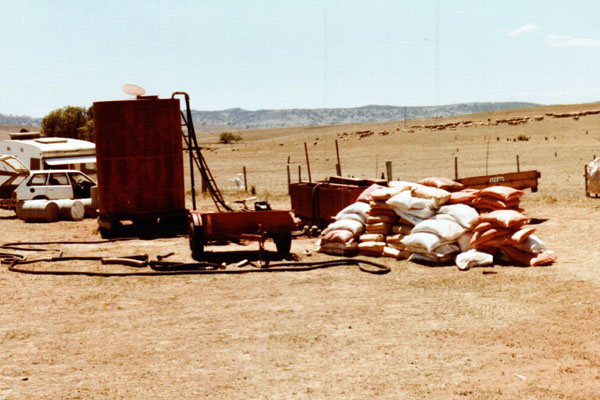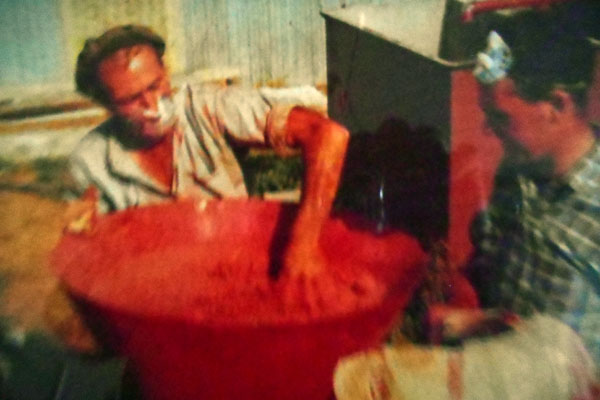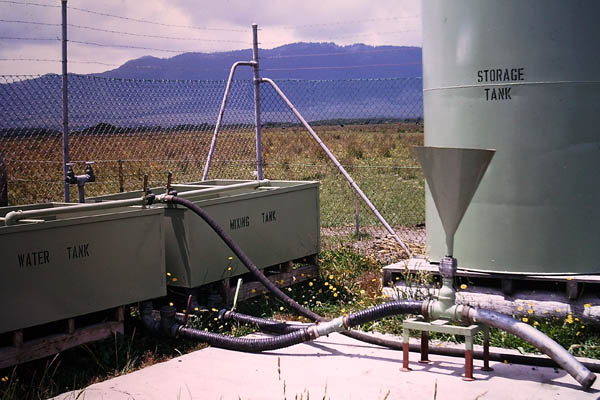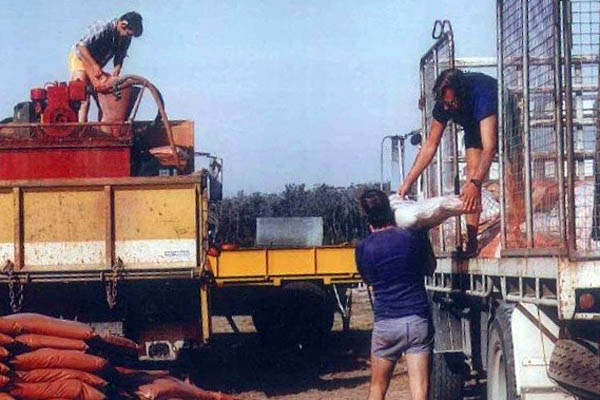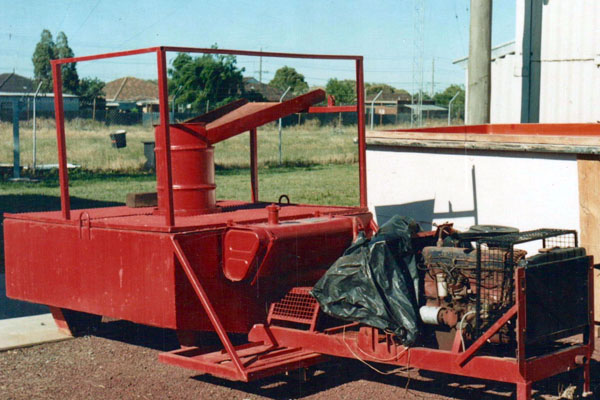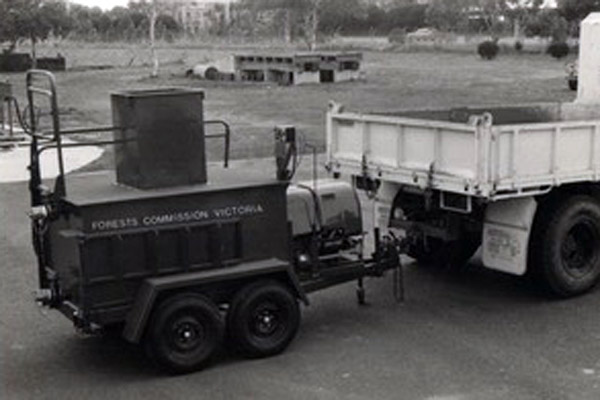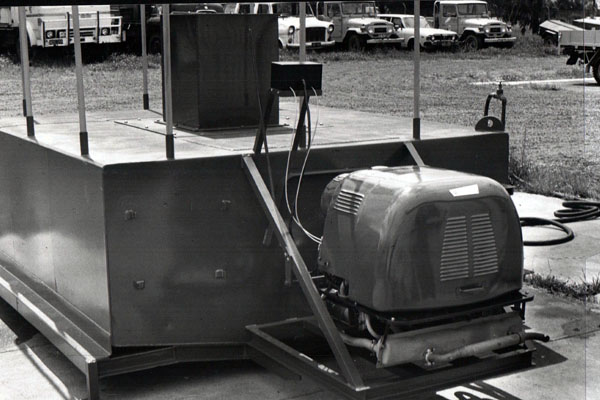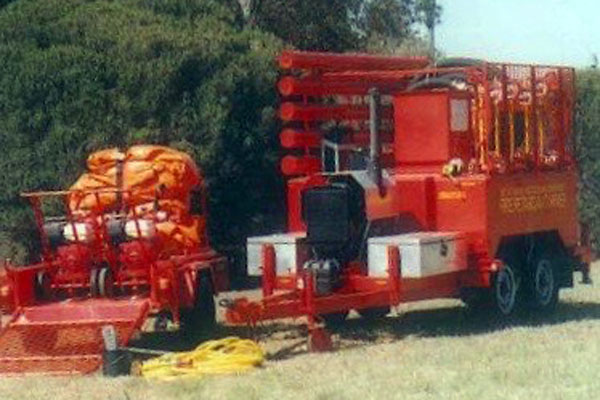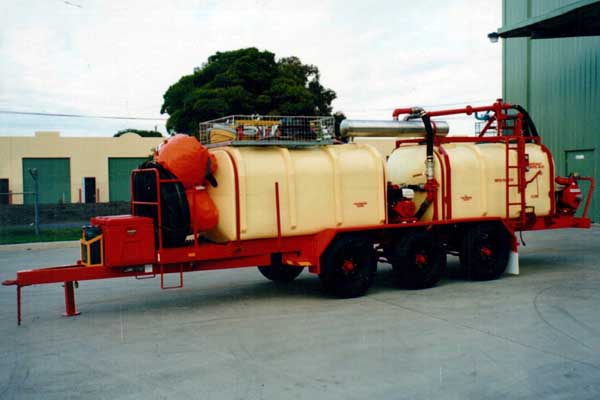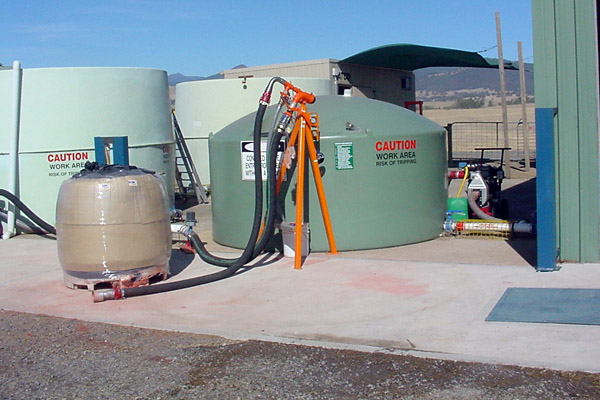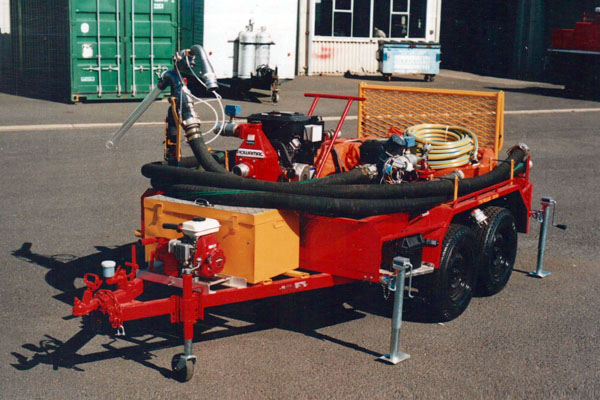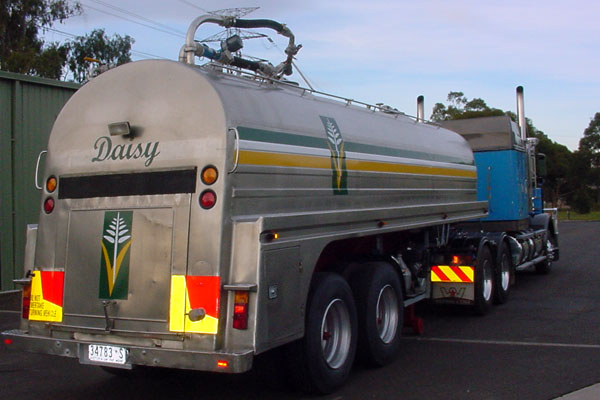 Equipment (fixed):
150 gpm eductor-mixer, blower-pump, 9000-litre floating collar tank (optional), in-line flowmeter, hoses, couplings, two 18-HP 75mm transfer pumps (for when simultaneous mixing and transfer of retardants may be needed).
All Departmental retardant bases were then progressively upgraded to the eductor-mixing system. (Fig.9)
150-GPM Eductor Mixer (Mobile) - 2004
A prototype mobile retardant mixer utilising a 150-gpm eductor was developed in 2003. (Fig.10) Following exhaustive trialling, additional mobile-mixers were assembled and culminated in an ongoing replacement program that commenced in 2004; disposing of the earlier, aging mobile internal-paddle mixers.

In-line eductors were selected as the preferred option for batch mixing long-term retardants as the technology provided a relatively dust-free environment for mixing crews.
Each unit trailer was provided fully equipped with couplings, pumps (complete with flow control technology), two 9000-litre collar tanks, relay tanks, hose-skates, hoses, refractometer, and associated tools.

Retardant powder was supplied in 'Phos-bins' which significantly reduced the OH&S manual-handling and dust emission issues.
Specifications:
Operating water pressure 700 Kpa
Water flow 640 litres per minute
Operating vacuum -88 Kpa
150-GPM Eductor Mixing Tanker (Mobile) - 2006
A 15 000-litre milk-tanker was converted to a retardant mixing tanker to enable the transfer of bulk retardant to airfields during fire emergencies. (Fig.11) The tanker had a 150-GPM eductor mounted on top of the tank and a larger 20-HP Honda pump to provide an increased flow of liquid. For the safety of the operator, air-controlled safety rails were installed above the tank.
The advantage of the 15 000-litre tank was that, should an emergency arise, it could quickly transfer the load of slurry to an alternative site and immediately commence transferring the load to waiting aircraft.There was no lost time in waiting for the retardant to be mixed if the product was already available. Retardant could, in appropriate circumstances, be mixed prior to departure.